Your Freeze Protection Headquarters
Cold temperatures can often damage or destroy objects and their contents. Pipes, valves, tanks, vessels, conveyers, and housings are examples of common objects that can be hurt by the cold.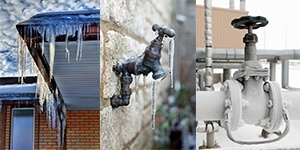 BriskHeat flexible surface heating products wrap around these items to protect them in even the most extreme conditions.
Anticipating freezing conditions and protecting buildings, equipment, and grounds against freeze damage is a vital part of a Facility Maintenance Program. BriskHeat solves a wide range of freeze protection applications including pipe tracing, drum heating, roof and gutter de-icing, IBC heating, valve de-icing, vessel heating, and enclosure heating. Shop Products