SLCBL Downspout Hanger Kit (SLCBL-RDOWN1)
BriskHeat Downspout Gutter Hangers are used to safely position heating cable into downspouts as part of a roof & gutter snow melting and de-icing system. Combined with SpeedTrace Self-Regulating Heating Cable, BriskHeat de icing cables for gutters, this kit completes your gutter heat tape de-icing solution.
Provides mechanical protection to prevent damage to the heating cable as it may go over sharp edges in roof & gutters.
For use with SLCBL and SpeedTrace self-regulating heating cable for roof & gutter snow melting and de-icing.
Must be bent at 90° and secured with UV resistant cable ties before installation.
Installing Heating Cable Downspout Hanger Bracket in Gutter
Step 1: Bend the Downspout Hanger Bracket to approximately 90 degree. Insert cable ties through holes on the Hanger Bracket and attach the gutter heat cable.

Step 2: Position the Hanger Bracket and tighten the cable ties. Trim off excess cable tie.

Step 3: The Hanger Bracket should be centered on the edge of the downspout to prevent mechanical damage and to support the heating cable.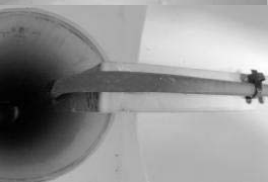 To Learn More about Ice Dam's and How to Prevent Ice Dams with Roof & Gutter Heating Cables, Click Here