BriskHeat Launches Compressor Soft Starters for the HVAC Industry
April 9, 2019 3:19:00 PM EDT by
Brisk heat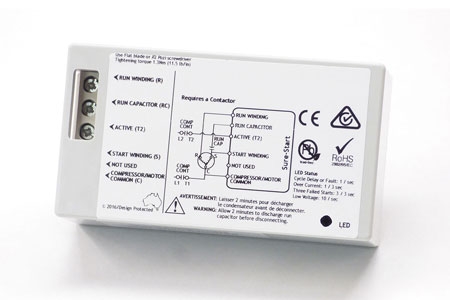 New Starters Designed to Increase the Efficiency and Longevity of HVAC Units and Heat Pumps
COLUMBUS, Ohio, April 9, 2019 – Today, BriskHeat, a leading provider of flexible heating, insulating and temperature control solutions, announced its latest product addition, Surestart compressor soft starters, designed for use with HVAC units and heat pumps.
The Surestart soft starter is a vital component in increasing the efficiency and longevity of HVAC units and heat pumps. It reduces the in-rush current needed for compressors to start by 60% thus minimizing potential damage to compressors from mechanical shock hard-starting current surges.
The Surestart compressor soft starter protects A/C compressors from failures including stalling, overheating, motor reversal, and arcing damage. Developed for use with single-phase scroll type compressors, the starters are available for all standard size compressors up to 32A and voltages up to 230VAC.
"Our customers can significantly reduce the size of their backup generators and improve the longevity of their HVAC units by using our new Surestart compressor soft starters, which saves them a great deal of money," said Patrick Doyle, Vice President of Business Development, BriskHeat. "Protecting and extending the lives of their compressors is a big bonus."
Single Phase Compressor Soft Starters for HVAC units and heat pumps