Why Commercial and Industrial Pipe Insulation is So Important
October 31, 2018 3:13:58 PM EDT by
BriskHeat
We sell a lot of heating products. A lot.
Our customers have pipes, vessels, and tanks that need to be heated to complete a process in their commercial or industrial settings. So, we sell them our self-regulating heating cable, or the constant-watt cable, or our heating tape which are all very effective at generating anything from a low heat that keeps pipes from freezing to a high temperature heat that's needed to keep a material melted, for example.
The one thing usually missing from their application equation, however is... insulation!
Depending on their circumstances, we always suggest that our customers add insulation to their order. Why? Just like you have insulation in your house to keep your heat in, you can use insulators along with your heating tape and cables to make them thermally efficient.
Our usual advice is to go with the Silver Series Cloth Heating Jackets and Insulators!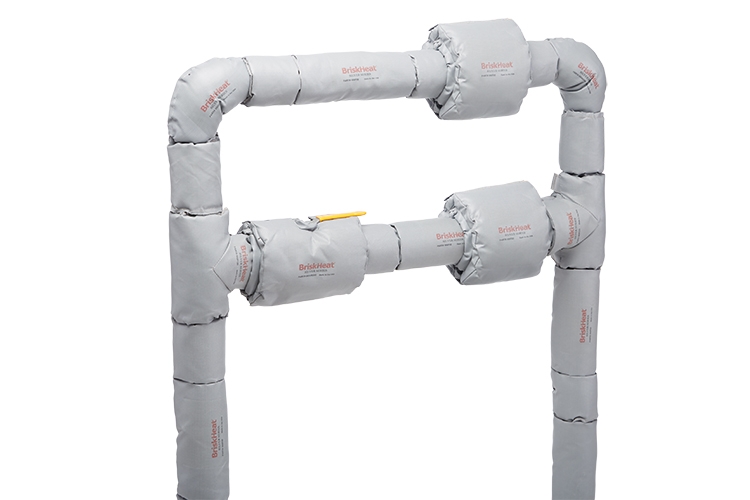 They're made of FRC1650 cloth because it's fire and chemical resistant and very durable. They are easy to put on and remove. They can be used in hazardous-area locations. Finally, they are easily configurable with straight, elbow, tee, and valve sections for whatever your layout requires.
And they are very beneficial - take a look:
You're reducing heat loss of course, but you're also improving the temperature consistency which saves you energy and money!
Not only that but it gives you and your employees added protection by insulating the heating source thus preventing a hot contact point
The cloth and fiberglass insulation also helps prevent condensation which can lead to corrosion
Like we said earlier - no need to worry about fire or chemical damage so your insulation can last a long time
They can also prevent a work area from getting too hot by keeping the heat enclosed
The heavy insulation provides padding that knocks down the excess noise and vibration that might be part of your process
Now we know your interest is piqued! It's time to order your Silver Series Cloth Heating Insulators, isn't it?
Well, if you're still not sold, give us a call and we'll give you even more interest-piquing details. We're at 888-412-0122. Or you can buy online today!